New Product                                                                       
Kanomax Model 3905 / 3910 / 3920
สนใจกรองฝุ่น PM2.5 และกลิ่น - Max Fresh Air 

<<คลิก
บริษัท ไทยเอ็นจิเนียริ่งสเปเชียลลิซ จำกัด
ก่อตั้งเมื่อปี พ.ศ. 2531(ค.ศ.1988) โดยเป็นตัวแทนจำหน่ายสินค้าประเภท แผ่นกรองอากาศ (Air Filter) ที่นำเข้าจากต่างประเทศ ทั้งจากยุโรป อเมริกา และ เอเชีย รวมถึงอุปกรณ์อื่นๆ ที่เกี่ยวข้อง  สำหรับอาคารสำนักงาน ห้างสรรพสินค้า โรงพยาบาล อาคารสนามบิน  โรงงานอุตสาหกรรม โรงงานเภสัชกรรม ห้องสะอาด (Clean Room) ห้องปลอดเชื้อ ห้องทดลอง( Laboratory)  ระบบกรองก๊าซพิษ กลิ่นสารเคมี และกลิ่นไม่พึงประสงค์(Air Pollution Control Products and Systems) รวมถึงแผ่นกรองอากาศ   สำหรับงาน Gas Turbine , Compressor และระบบกรองฝุ่นสำหรับ ห้องพ่นสี อบสี เป็นต้น
ปัจจุบันบริษัทฯสามารถผลิตแผ่นกรองอากาศในประเทศได้ครบวงจร  โดยผลิตในโรงงานที่ได้มาตรฐานภายใต้การควบคุณภาพ และสร้างความพึงพอใจแก่ลูกค้าเป็นอันดับแรก  แผ่นกรองอากาศที่ผลิตในประเทศนี้ได้ผ่านการทดสอบจากห้องทดสอบกลางตามมาตรฐาน ASHRAE และ EN  นอกจากนั้นการผลิตยังเป็นการทดแทนการนำเข้าสินค้าสำเร็จรูปจากต่างประเทศฯ  ช่วยเพิ่มการจ้างงานในประเทศ และสามารถส่งมอบสินค้าได้รวดเร็ว และตรงเวลา


THAI ENGINEERING SPECIALISTS CO.,LTD. (TESCO)
Founded in August 1988, Thai Engineering Specialists Co.,Ltd. (TESCO) has grown to be one of leader of Air Filter supplier in
Thailand for Commercial and Industrial markets. The basic premise on which the company was founded is to provide replacement
filters for all type of HVAC systems. Whatever type of air filtration equipment is installed in your facilities, TESCO can provide a direct
replacement or recommend alternatives for improved indoor air quality, lower cost and longer service life. We are able to offer
products in every categories for air filters from Pre Filter,Pleated Filter,Medium Filters to HEPA and Super ULPA Filter. A wide variety
of filters for specialized applications is also available, including paint overspray, Gas phase absorption and dust collection.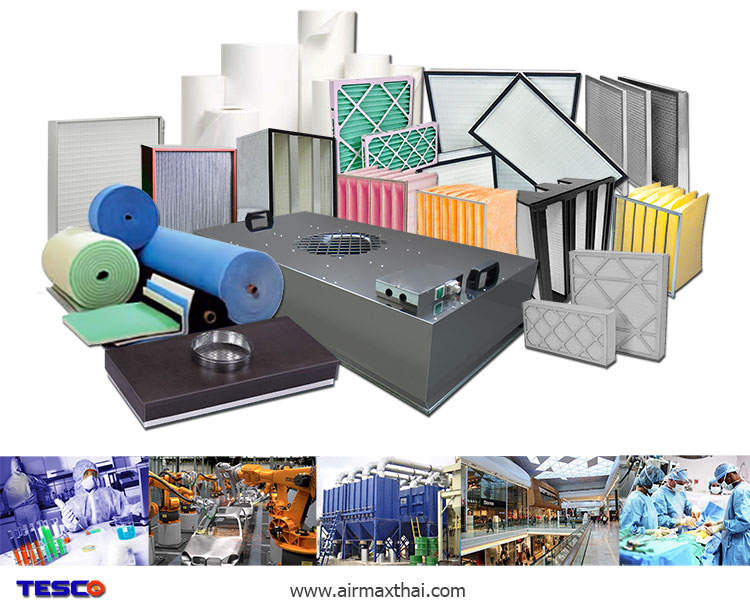 | | | | | |
| --- | --- | --- | --- | --- |
| |   | |   | |
| AM-150 (G2) / AM-220 (G4) |   | AM-290 (G4) |   | AM-560G (F5) |
| Thickness : 10/18mm. |   | Thickness : 20mm. |   | Thickness : 25mm. |
| Roll Rize : 2m. x 20m. |   | Roll Rize : 2m. x 20m. |   | Roll Rize : 2m. x 20m. |
| |   | |   | |
| |   | |   | |
| Paint Stop (G2) Glass fiber |   | Aluminium Filter (รังผึ้ง) |   | Activated Carbon Media |
| Thickness : 50mm. |   | Thickness : 5/8" (16mm.) |   | Thickness : 10mm. |
| Roll Rize : 1.5m. x 20m. |   | Roll Rize : 24½" x 50Ft , 40" x 50Ft |   | Roll Rize : 1.2m. x 20m. |
| |   | |   | |
Pre Filter
Extruded Aluminium Frame Flat & Pleat Type 
| | | | | |
| --- | --- | --- | --- | --- |
| |   | |   | |
| Synthetic Pre Filter Flat Type |   | Synthetic Pre Filter Pleat Type |   | Alumax Aluminium |
| Thickness : 1" (22mm.) |   | Thickness : 2" , 4" (47 , 95mm.) |   | Thickness : 1" , 2" (22 , 47mm.) |
| Size : 12" x 24" x 1" |   | Size : 12" x 24" |   | Roll Rize : 2m. x 20m. |
| Size : 24" x 24" x 1" |   | Size : 24" x 24"  |   | Size : 24" x 24"  |
|  *Custom size available  |   | *Custom size available  |   | *Custom size available  |
| |   | |   | |
Pre Filter
Disposable Pleat Panel 
 
 
MaxPrePleat Pre Filter


(MERV.7)

 
MaxPrePleat Pre Filter


(MERV.8)

 
MaxTroGuard 11


(MERV.11)

Efficiency : 25-30% (MERV.7) (G4)
 
Efficiency : 30-35% (MERV.8) (G4)
 
Efficiency : 35-40% (MERV.11) (F6)
Media : 100% Syntheic (Green)
 
Media : 100% Syntheic (White)
 
Media :

Electrostatically Enchanced.

Frame : Dia-cut Beverage Board
 
Frame : Dia-cut Beverage Board
 
Frame : Dia-cut Beverage Board
Thickness : 1", 2", 4" (22, 47, 95 mm.)
 
Thickness : 1", 2", 4" (22, 47, 95 mm.)
 
Thickness : 1", 2", 4" (22, 47, 95 mm.)
Std. Size : 12" x 24" (289 x 594 mm.)
 
Std. Size : 12" x 24" (289 x 594 mm.)
 
Std. Size : 12" x 24" (289 x 594 mm.)
Std. Size : 24" x 24" (594 x 594 mm.)
 
Std. Size : 24" x 24" (594 x 594 mm.)
 
Std. Size : 24" x 24" (594 x 594 mm.)
 
 
Medium Filter
MAXPOCKETS EXTENDED SURFACE POCKET FILTER
 
 
MaxPockets Bag Filter


(MERV.12)

 
MaxPockets Bag Filter


(MERV.13)

 
MaxPockets Bag Filter


(MERV.14)

Efficiency : 60-65% (MERV.12) (F6)
 
Efficiency : 80-85% (MERV.13) (F7)
 
Efficiency : 90-95% (MERV.14) (F8)
Media : 100% Syntheic (Orange)
 
Media : 100% Syntheic (Pink)
 
Media : 100% Syntheic (Yellow)
Sealed : Ultrasonically Edges.
 
Sealed : Ultrasonically Edges.
 
Sealed : Ultrasonically Edges.
Pockets : 3, 6, 8, 10
 
Pockets : 3, 6, 8, 10
 
Pockets : 3, 6, 8, 10
Deep : 15", 22", 30"
 
Deep : 15", 22", 30"
 
Deep : 15", 22", 30"
Std. Size : 12" x 24" (287 x 595 mm.)
 
Std. Size : 12" x 24" (287 x 595 mm.)
 
Std. Size : 12" x 24" (287 x 595 mm.)
Std. Size : 24" x 24" (595 x 595 mm.)
 
Std. Size : 24" x 24" (595 x 595 mm.)
 
Std. Size : 24" x 24" (595 x 595 mm.)
 
 
Medium Filter
MAXIFLOW-I  EXTENDED SURFACE DEEP PLEAT
| | | | | |
| --- | --- | --- | --- | --- |
| |   | |   | |
| MaxiFlow-I Box Type |   | MaxiFlow-I Single Header |   | MaxiFlow-I Double Header |
| Efficiency : 65%, 85%, 95% (F6, F7, F8) |   | Efficiency : 65%, 85%, 95% (F6, F7, F8) |   | Efficiency : 65%, 85%, 95% (F6, F7, F8) |
| Media : Glass Fiber |   | Media : Glass Fiber |   | Media : Glass Fiber |
| Frame : Aluminium, Galvanized Steel |   | Frame : Aluminium, Galvanized Steel |   | Frame : Aluminium, Galvanized Steel |
| Thickness : 6", 12" (150, 292 mm.) |   | Thickness : 6", 12" (150, 292 mm.) |   | Thickness : 6", 12" (150, 292 mm.) |
| Std. Size : 12" x 24" (288 x 592 mm.) |   | Std. Size : 12" x 24" (288 x 592 mm.) |   | Std. Size : 12" x 24" (288 x 592 mm.) |
| Std. Size : 24" x 24" (592 x 592 mm.) |   | Std. Size : 24" x 24" (592 x 592 mm.) |   | Std. Size : 24" x 24" (592 x 592 mm.) |
| |   | |   | |
Medium Filter
MAXIFLOW-II  Slim  Mini Pleat (4" Deep)
 
 
MaxiFlow-II Slim


Card  Board Frame Style

 
MaxiFlow-II Slim


Single Header Metal Frame Style

 
MaxiFlow-II Slim


Box Type Metal Frame Style

Efficiency : 65%, 85%, 95% (F6, F7, F8)
 
Efficiency : 65%, 85%, 95% (F6, F7, F8)
 
Efficiency : 65%, 85%, 95% (F6, F7, F8)
Media : Glass Fiber
 
Media : Glass Fiber
 
Media : Glass Fiber
Frame : Cardboard
 
Frame : Aluminium, Galvanized Steel
 
Frame : Aluminium, Galvanized Steel
Thickness : 4" (95 mm.)
 
Thickness : 4" (95 mm.)
 
Thickness : 4" (95 mm.)
Std. Size : 12" x 24" (289 x 594 mm.)
 
Std. Size : 12" x 24" (289 x 594 mm.)
 
Std. Size : 12" x 24" (289 x 594 mm.)
Std. Size : 24" x 24" (594 x 594 mm.)
 
Std. Size : 24" x 24" (594 x 594 mm.)
 
Std. Size : 24" x 24" (594 x 594 mm.)
 
 
Medium Filter
MAXIPLUS-V EXTENED SURFACE MINI PLEAT
| | | | | |
| --- | --- | --- | --- | --- |
| |   | |   | |
| MaxiPlus-2V |   | MaxiPlus-3V |   | MaxiPlus-4V |
| Efficiency : 65%, 85%, 95% (F6, F7, F8) |   | Efficiency : 65%, 85%, 95% (F6, F7, F8) |   | Efficiency : 65%, 85%, 95% (F6, F7, F8) |
| Media : Glass Fiber |   | Media : Glass Fiber |   | Media : Glass Fiber |
| Frame : All Plastic Construction |   | Frame : All Plastic Construction |   | Frame : All Plastic Construction |
| Thickness : 12" (295 mm.) |   | Thickness : 12" (295 mm.) |   | Thickness : 12" (295 mm.) |
| Std. Size : 12" x 24" (288 x 592 mm.) |   | Std. Size : 12" x 24" (288 x 592 mm.) |   | Std. Size : 12" x 24" (288 x 592 mm.) |
| Std. Size : 24" x 24" (592 x 592 mm.) |   | Std. Size : 24" x 24" (592 x 592 mm.) |   | Std. Size : 24" x 24" (592 x 592 mm.) |
| |   | |   | |
HEPA Filter
HEPAMAX  High Efficiency Particulated
| | | | | |
| --- | --- | --- | --- | --- |
| |   | |   | |
| HepaMax-Deep Pleat |   | HepaMax-High Temp |   | HepaMax-V-Bank |
| Efficiency : 99.99%, 99.999% (0.3μm) |   | Efficiency : 99.99%, 99.999% (0.3μm) |   | Efficiency : 99.99%, 99.999% (0.3μm) |
| Media : Ultra fine Glass Fiber |   | Media : Ultra fine Glass Fiber |   | Media : Ultra fine Gass Fiber |
| Frame : Aluminium, Galvanized Steel |   | Frame : Stainless Steel (SUS) |   | Frame : Aluminium, Galvanized Steel |
| Thickness : 6", 12" (150, 292 mm.) |   | Thickness : 6", 12" (150, 292 mm.) |   | Thickness : 12" (292 mm.) |
| Std. Size : 12" x 24" (305 x 610 mm.) |   | Std. Size : 12" x 24" (305 x 610 mm.) |   | Std. Size : 12" x 24" (305 x 610 mm.) |
| Std. Size : 24" x 24" (610 x 610 mm.) |   | Std. Size : 24" x 24" (610 x 610 mm.) |   | Std. Size : 24" x 24" (610 x 610 mm.) |
| |   | |   | |